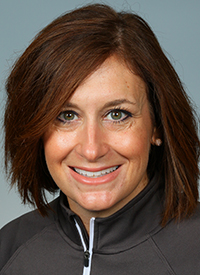 Deana Jespersen is in her fourth season as head women's volleyball coach at Rowan University.

Last year, the Profs advanced to the New Jersey Athletic Conference (NJAC) Championship Tournament for the 10th straight year, ending with a 9-23 mark. Megan Jacobi and Erica O'Hagan were named to the NJAC All-Conference Team.

In 2015, Rowan had an overall mark of 11-22 and had a conference record of 5-3. The Profs qualified for the NJAC Championship Tournament. In 2014, the Profs had a 16-16 record and they were 6-2 in the NJAC. Rowan reached the final match of the conference championship tournament. Jespersen was named the NJAC Joy Solomen Coach of the Year and three players were chosen to the All-Conference team.

Jespersen's career coaching record is 219-214. She came to Rowan after completing 10 seasons as the head coach at Neumann University. While at Neumann, Jespersen compiled a record of 180-155. The Knights won three conference championships (2012, 2008, 2007) and advanced to the NCAA Divison III Championship Tournament three times (2012, 2008, 2007) under her tutelage.

In 2012, Jespersen was named the Colonial States Athletic Conference (CSAC) Coach of the Year for the fifth time as she led Neumann to a perfect 11-0 conference mark. Neumann also made three appearances in the Eastern College Athletic Conference Tournament (2013, 2011, 2006) and was the CSAC runner-up three times. In all, her teams made nine straight conference playoff appearances.

Jespersen coached the 2012 CSAC Player of the Year and three conference Rookies of the Year. She also had a student-athlete receive the NCAA Ethnic Minority and Women's Enhancement Postgraduate Scholarship for Careers in Athletics.

Jespersen has served as the head coach of the Mystique Volleyball Club since 2004. Prior to beginning her stint at Neumann, she was the head coach at Swarthmore College in 1999. She also was an assistant coach at Eastern University from 1996-97.

Jespersen graduated from Elizabethtown College in 1996 and was a three time co-captain for the Blue Jays. She was named the team's Most Valuable Player three times and earned Middle Atlantic Conference All-Conference honors in her senior season.